Date: 27 – 29 April 2018
This festival, namely World Harvest Festival (WHF), is a grander scale of the annual Harvest Festival (also known as Gawai Dayak celebration) of the native tribes of Sarawak. There will be participation of cultural troupes from Nitto Rong Organization of Bangladesh and Kumpulan Batambul Rungus Matunggong of Sabah for this year's festival.
The main highlight of WHF is the theme play. It has received rave reviews from the media in the past. The WHF theme play utilizes the lake, ethnic houses and trees as natural props which can only be produced in the Sarawak Cultural Village.  Each year, the play takes on a different ethnic theme.
There will be sampling of traditional food and crafts of the ethnic communities of Sarawak. There will also be a series of joint workshops by the local and invited cultural troupes.  The ethnic beauty pageant, "Miss Cultural Harvest Festival" will lend color and vibrancy to the event. There will be a Tribal Ironman Challenge as well.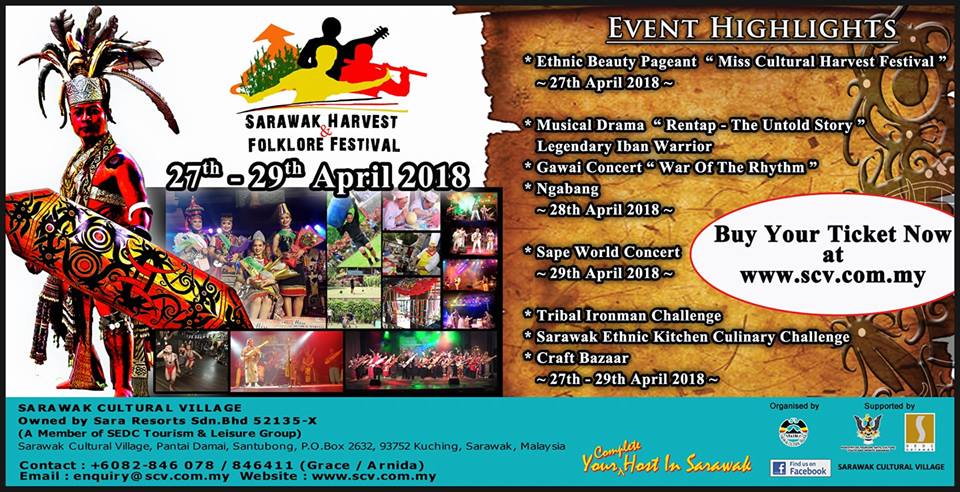 WHF highlights how Gawai Dayak is celebrated as a whole. It is the largest event hold in Sarawak in terms of the community involved. WHF provides the opportunity for those who want to understand the cultures, traditions and aspirations of the Dayak community.  This will be the 11th year in the running.
Interested to attend?
You can purchase your own entrance ticket at www.scv.com.my (Information there might be outdated but the method to purchase the tickets still the same) . Just remember, the event is only on 27th-29 April 2018.
Are there more interesting things to do in Kuching?
If you are already in Kuching by that time, why not check out tours here or contact us directly for a short day adventure with locals. We offer authentic experiences that allow you to dive deeper into the culture of the local communities here while giving back directly to the locals.
Published Date: Feb 20, 2018