Patricia Hului wrote an article about Backyard Tour on The Borneo Post SEEDS on 26th June 2015. She wrote her personal experience joining one of our travelers' trip on 29th May previously. Read the article from this link; or just read it down here.
Homegrown tour guides for an authentic outdoor experience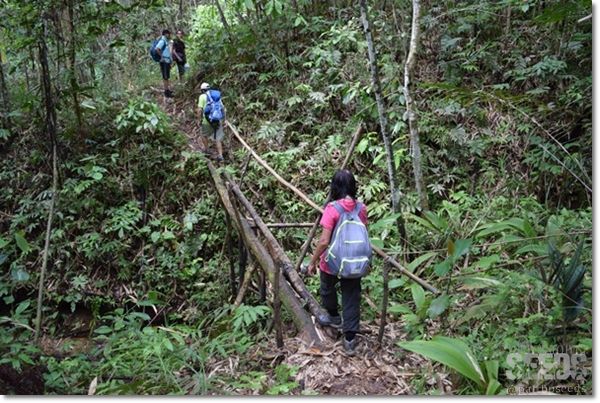 After going up and down a narrow trail going over three bamboo bridges in between, I found myself breathing heavily.
Admittedly, I was not in my best shape. One and a half-hour of trekking might be a piece of cake to some but not to me.
Then, my salvation came in the sound of lapping waters. It was from the Ban Buan Kukuot waterfall; one of many hidden and underrated beauties of Sarawak.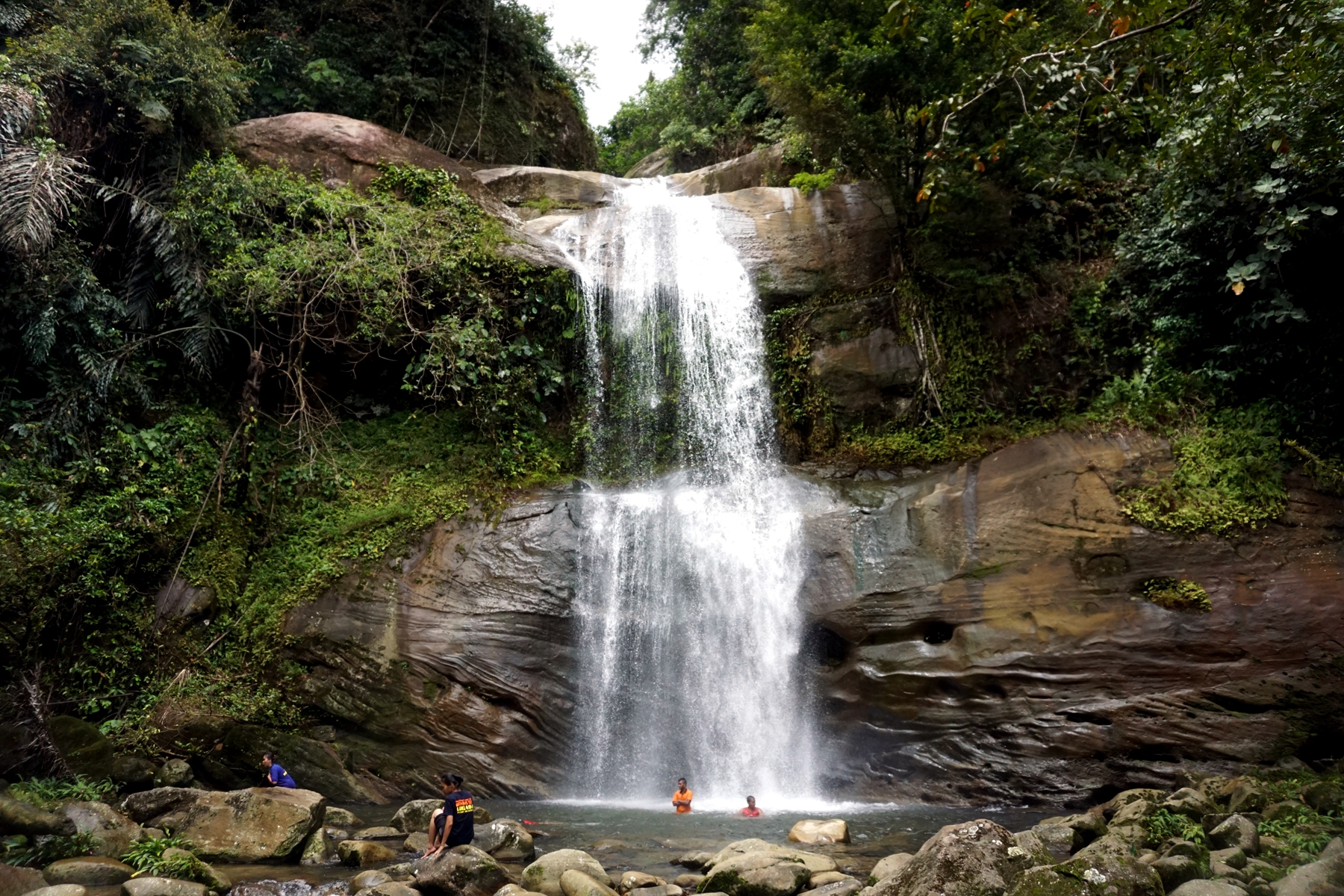 Ban Buan Kukout is a two-tiered waterfall with a rough height of 290m and a large pool perfect for cooling off below.
Sharing the same trail with Ban Buan Kukout is Mabi, another two-tiered waterfall, two of many water flows from the Penrissen range.
Mabi stands at around 170m and is located nearer to the main road than Ban Buan Kukout, but does not mean it is less appealing.
More experienced local daredevils use Mabi for cliff diving, jumping off the the top tier into a pool that is believed to be 7 feet deep; highly inadvisable for everyone else.
Both waterfalls are in Kampung Sadir, a village located more than 10 minutes' drive past the more-famous village of Annah Rais.
Besides these two, Kampung Sadir alone also offers five other waterfalls to explore.
Ban Buan Kukout and Mabi are not your usual tourist hotspots yet the entourage I was in included two tourists from Australia and another couple from Peninsular Malaysia.
Even my guide was not your typical tour guide. He had a parang tied around his waist and he carried a rice pot in a plastic bag with his left hand and a woven basket filled with food on his back. He knows which plants are edible, which plants are not. He introduced the names of some plants in local language Malay or Bidayuh instead of their un-pronounceable scientific names.
He cooked too. He prepared a few dishes like stir-fried long beans, tapioca leaves, ayam pansuh (chicken cooked in a bamboo) and bamboo-cooked rice. Instead of a red-and-white checked tablecloth, he laid our lunch out on a couple of large stones just a few metres away from the waterfall.
And he jumped off the Mabi waterfall fully clothed. It was a bolt of the blue for me, as I had not even noticed that he had jumped until I saw him gleefully swimming in the pool down below.
Here is the thing; my guide, 28-year-old Lawrence Sangong is a local from Kampung Sadir who was trained under The Backyard Tour Guide.
The Backyard Tour Guide is a non-profit effort initially funded by National Innovation Agency Malaysia (AIM), a government statutory body.
While absorbing the beauty of Ban Buan Kukuot, I had my chance to talk to the founder of the Backyard Tour Guide, 24-year-old Abbie Hosanna Ruang. With our feet dipped in the cooling water flowing from Ban Buan Kukout, Abbie told me she was worked on the project with her boyfriend, Dawson Lee, and friends Daniel Wong and Yeshua Suresh.
In 2014, AIM conducted a competition called Berbudi Berganda Social Impact Innovation Challenge open to the public to propose fresh solutions for social issues such as youth unemployment, homelessness, elderly care and others. By last December, AIM went through 300 ideas before narrowing it down to 25. The top 25 teams presented their ideas and then 12 of the best ideas were selected.
When the results were announced earlier this year, The Backyard Tour Guide was one of the 12 finalists who won seed money of RM25, 000. The project was to 'empower youths with jobs in eco-tourism'. To kick start their project, the group got in touch with the village chiefs and even approached some of the youths themselves. Some of them are students while others work in the farmlands. They all had one thing in common; they were local youths living in their own villages, away from the city. The Backyard Tour Guides trained them casually over a weekend for free, building trust along the way.
At night, the group brainstormed together with the youths to design the tour packages and coach them over how to design the basic tour guide modules. During the day, they toured and trekked the kampung's backyards to see for themselves what the villages had to offer. Abbie said they were now into promoting their tour packages.
"We stopped training youths last April. Now we get them customers first then they have the confidence to do it," she said. So far the group has trained 22 youths from seven villages around the Padawan area aged between 18 to 36 years old. Abbie cited that some of the main problems was that the places they offered to tour were quite far from town, ranging between 45 minutes to 2 hours' drive from Kuching.
Another reason was that some of the places were relatively unknown; which is true. Taking Ban Buan Kukout waterfall, for instance, despite how pristine is, the waterfall has never graced any travel brochures found at the airport.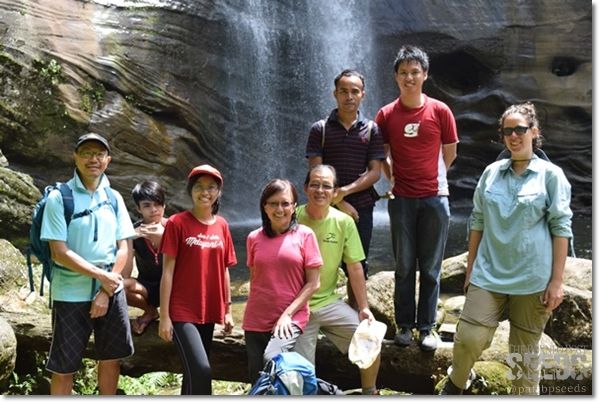 But having a group of millennials running a social enterprise has it's own benefits. The Backyard Tour Guides took it to Facebook, Twitter, Pinterest and Instagram to promote their activities. They also gave a glimpse of how they trained the youths through their blog which is how some of their tourists have reached them. The Backyard Tour Guide connect the tourists and the youth guides by phone since Internet connection is not available at most places where the guides live.
From a competition entry, the Backyard Tour Guide now is a social project in which all fees received are given to the local youth guides. Abbie stated, "The price we are now offering is low, just enough to cover the costs and a little bit of profit margin. "We want to make it price competitive so that people are interested to come," said the Kampung Git native.
Looking into their future, Abbie stated she wanted their effort to be sustainable. She said that The Backyard Tour Guide had submitted their application to Malaysian Global Innovation & Creativity Centre (MaGIC) Accelerator Programme (MAP). MAP is Southeast Asia's largest startup programme focusing on both profit-oriented and social enterprises. They are still waiting for the results which are expected to be out sometime this month. In the long run, the group aims to create opportunities in the rural interiors through eco-tourism so that youths do not have to migrate to the towns in search of better living.
She also said the youths they had trained could stand on their feet and bring their own tourists without going through the Backyard Tour Guide if they have wanted to. "The main thing is to help them," Abbie said.
Interested with the Trip? Want to go on your own?
The day trip tour is still open for booking. Visit here to fins out more: Back to Basic : Be one with Nature Day Tour
Published Date: Jun 30, 2015