Training Course in Kampung Semedang
It was one of those days when we received e-mails. This time, it was the first time we have received an e-mail that requested our assistance in training tour guides. Based on our previous experience, we were the ones who went and approach villages to train youths to become guides, but this time was the other way round. We thought, why not? So off we go, into this village called Kampung Semedang.
Visit Rabak Villagestay
We were told that we would meet up with the owner of Rabak Villagestay, Madam Naura. She is a sweet, kind and very hospitable lady who had just quit her job last year to focus on building her own business in the country side. From what we heard, she invested her life savings into building her house which will serve guest looking to spend time at her place. And no wonder, a quick glance inside the house revealed the amount of hard work put into it, and the money as well.
Further exploration into the house revealed its nature of being well-equipped with modern stuff, again reflecting the time and monetary investment into this piece of property. Here we can find the fully furnished toilets, shower rooms, and bedrooms.
Day 1: Training Session Started with Long Introduction
We were absolutely thrilled and looked forward to hanging around this wonderful place for a while longer. Next we spent the morning at the veranda outside the house, explaining our operatives to Madam Naura.
To our surprise, we realized that she has been undercharging her services to her previous guests. Thus, we explained to her from top to bottom, putting a price on the offerings of her house, including the activities. This has been a trend in other villages as well. The locals not charging the equivalent fees to the effort they put in.
Accompanying us is Albert who would be the youth that we train this time round. We proceeded towards the end of the day and we thoroughly enjoy the time we spent with them.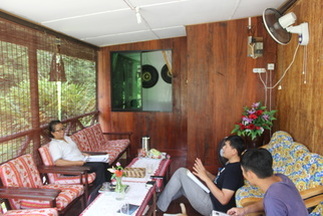 Day 2: Training Session Ongoing
The second day started without the awe and surprise of the first day as we have pretty much gotten used to the place. As usual, Madam Naura was already there waiting for us. Perhaps inspired by what we told her the day before, she brought from her old house different ornaments and photographs to be  put around the house, definitely a nice touch.
After Albert arrived, we proceeded to our training.  We've had a good session in the morning and then, we had a break from all the talking and brainstorming. Equipped with our borrowed camera, we started going around the house to take some pictures.
Among the first things that we encounter was a seemingly patch of flat ground with different types of vegetation. Feeling curious, we asked Mdm Naura about it and she answered that she has planted those to show her guests a few examples of agriculture products that the Bidayuh people in Semedang work on for a living. We thought that it was quite an ingenious touch to add value to her guests' stay.
Other than the sample agricultural plants, we have also managed to capture the beautiful gardening work done, truly amazing.
After the afternoon training session, time just seemed to fly past. Madam Naura was so kind to prepare us tea, which was nothing short of extraordinary as well. From the looks of it, she would really feed her guests well, and we'd say it's a big plus point.
With that we have concluded our training, at least the theory part, looking forward to our practical session the next day where we will explore with the hosts the attractions around Semedang village.
Day 3: Practical Day
Come the third and final day, we set out to go on an adventure. But before that we have to get some photos of the place and people ready, what's better than having the guys showcase their traditional outfits? But first, gotta have some breakfast. Here, have some more breakfast shots.
After filling up our tummies, it was time to do our business. Here we go!
Photoshoot with Bidayuh Traditional Costumes
First up we have the kids of the family that were ready with their Bidayuh traditional costume. Willingly they sat down for their photo shoot session and we personally think they enjoyed the attention.
Shortly after that we have lead male character coming up. Albert's father, uncle Ninyong was dressed in a traditional Bidayuh suit. He was equipped with a necklace that has wild boar tusks as ornament. It is believed that it can act as a charm, with the beaded ring acting as a tool to usher spirits.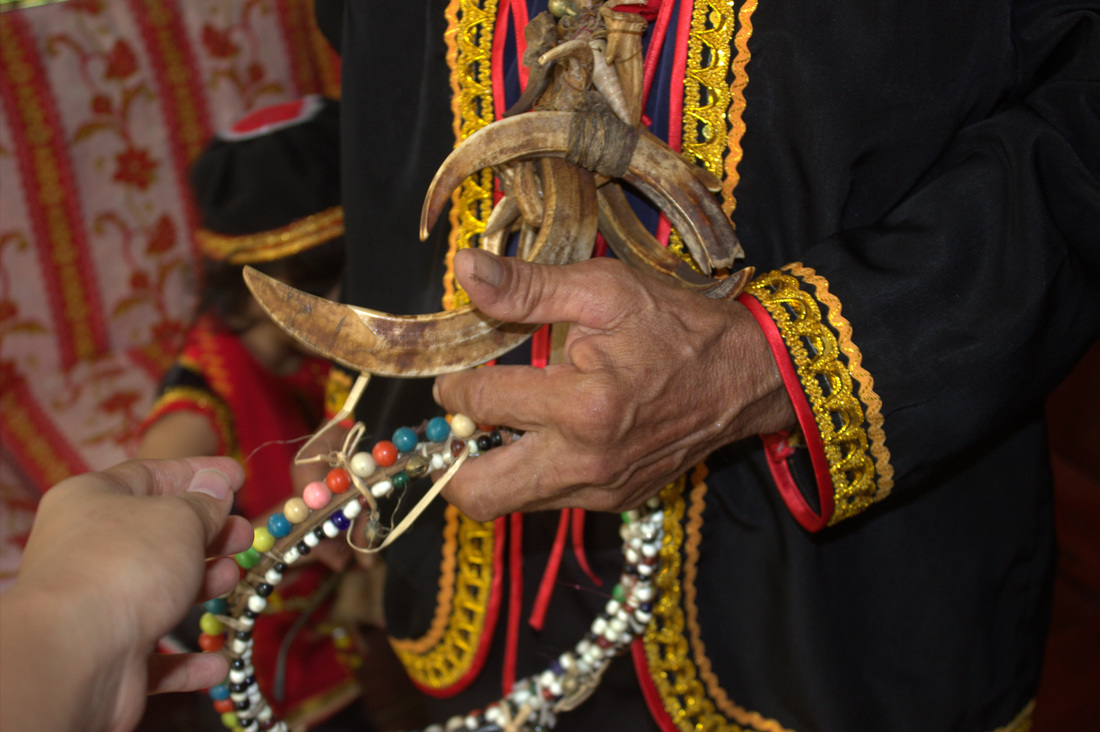 Before too long, the whole family appeared before us, in full traditional costume for the photo shoot. We were just amazed by the color and the details in these costumes including all the traditional motives and beads. Then,we lined them all up at the front of the house and took some spectacular pictures. Some of the photos are took inside of the house.
Jungle Trekking
After lunch, which we guaranteed would be a scrumptious meal again, we took a short rest and headed out for our much anticipated jungle trekking trip. But first, we went around the mini farm by the side of the house and managed to capture this.
Looks pretty eh? It is will be fruit season soon and we can't wait to see how this chunk of juicy Rose Apple, or as the locals called it, "Jambu Air".
Without further ado, off we went into the woods.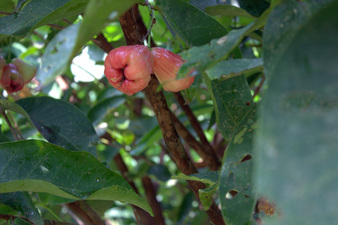 Almost right away we came up to a bamboo bridge. It seemed like the locals here have much experience building such bridges as it looked solid and neatly done. Madam Naura told us that it is the third bridge that they have built.
We walked further into the jungle and we were really impressed with the locals' ability to walk in the forest with such pace. It looked as if they were just taking a stroll in their own backyard while we were already perspiring from the heat.
Tarzan Cave?
After another 10 minutes or so of walking, we have officially reached what the locals dubbed as "Tarzan" Cave. Well, after exploring it for a while, it was pretty clear that it is not really a cave, but rather, a beautifully sculptured piece of huge stone by nature. It's size is equivalent to a small hill, only this one, you can actually go in and take a look!
We bid farewell to the cave in about 10 minutes as we had a schedule to keep, the sun tends to go down a bit earlier in East Malaysia as compared to the West, perhaps due to longitudinal difference. We made our way to the before mentioned hot spring. We were rather curious as to how it would look like.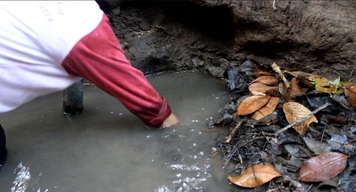 We waded through a small stream which was about the knee height. Even before reaching the spot, we already felt some temperature in the water as we waded. Excitement grew in our hearts.
​
When we reached, we could see bubbles coming out of a seemingly unspectacular spot in the water. There wasn't much fanfare but this ladies and gentlemen, is the real deal hot spring. The water was warm and we foresee further refinement to make this a suitable place for people to just sit in and relax.
Semedang River
Next up, our final (almost) trip is to get ourselves to the Semedang river where we will be joining up with Uncle Ninyong and his trusted fiberglass boat. We had to park our car at the roadside and walk inwards to reach the bathing area.
After we reached, the place was already crowded with locals trying to get some relief from the warm weather. We even saw someone barbecuing at the other section of the river. The water was really pristine.
Time for our boat ride, it has remarkable potential as we breezed through the waters while experiencing some nice head wind blowing onto our faces.
Semedang Suspension Bridge
Our final stop after the boat ride was to stop by at the main village area of Semedang. We came across a suspension bridge, quite similar the one we encountered in Giam. It was such a breathtaking view so we did some photo-taking.
Wrap-up
We were thoroughly exhausted from the little adventure that we had. Throughout these three days we were actually the ones indebted to these wonderful people. With that, we concluded our three days of training. Just as were about to leave, our hosts presented us some souvenirs; two traditional Bidayuh baskets called the "Tambuk".  Till we meet again.
Published Date: Jan 12, 2016