Our First Ever Trip to Kampung Begu
We came to know Kampung Begu from the signboard mentioning "Rafflesia Growth Site, Kampung Begu" which we passed every time when we go to the interiors of Padawan through the Old Kuching- Serian road. After many attempts to connect with the people there, finally, we were on our way.
Kampung Begu is a agricultural village located in a valley surrounded by mountains covered with virgin jungles. Due to ample and fertile flat land, villagers choose to cultivate there, leaving the jungles of the mountains untouched.
Part of the landscape is rocky and flooded when it's raining, providing a perfect environment for the Rafflesia (the world largest flower) to grow.
Training Session
We reach the village at roughly 8PM at night and straight away started our training in the community hall of the village. 4 youths, Apeng, Lesley, Herry and Andy and the headman joining the the training, which is mostly a brainstorming session rather.
Tourism has its potential here in Kampung Begu
They were very proactive and one is actually a free lance tour guide himself, having brought tourist from Japan and Switzerland to the caves. They clearly see the tourism potential of the village but just didn't know how and where to start. We brainstormed until its almost midnight and after finalizing our plans to all the different places, we headed off to Apeng house for the night. Apeng's house is quite impressive. A farmer, himself, he collects farm produce from the villagers and sell them at the Satok market. At the moment he's busy collecting bananas and there are tonnes of bananas in the house.
After exploring the house for a while, we found this rather interesting piece of pottery used to keep rice.
After quite a long supper session, talking from sports to politics, off we went to sleep.
Next Day – Exploring Kampung Begu
By 8 AM, we are ready to embark a day long adventure around Begu, and our tech-savvy youths started off with a selfie.
We found a very interesting fruit shell just outside the house. The fruit is called payang. In its original form, it's poisonous. The locals will peel away the shell and let them be drenched in flowing water for a few days before eating the flesh which has a creamy texture.
We're quite curious and thought that they must be so delicious that it justify all the effort put in to remove the poison. When the shell is burned, the smoke repels insects.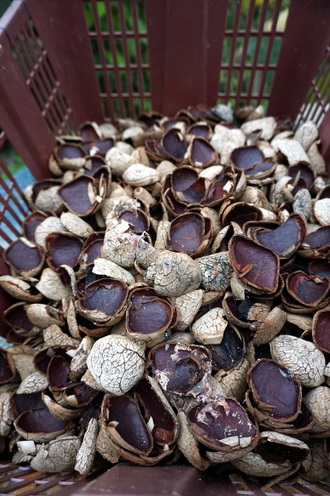 And off we go on their motorbikes to explore Kampung Begu on a quiet, misty morning.
Our first stop, the Rafflesia's Site.
We're amazed at the build quality of the facilities there. This site has fiber glass walkways, toilet, shades.
Sadly, there're no Rafflesia. The buds were stolen, otherwise it'll be almost the full bloom season already, which is normally in May & June. Just wonder why on earth would people steal it. Perhaps the nice walkways which were right beside the main road made it so easily accessible for people to just come in and do anything they want. There're plans to build gated fences soon. Hopefully that will better protect these rare blooms.
Next stop we are on our way to Taang Cave
Taang in Bidayuh means cave. The cave is quite pretty but we didn't manage to take many good quality pictures as it's our first cave visit and we only realize our pictures are pretty bizarre after when we reviewed them.
For those who are coming for tours, you can actually explore the whole stretch of the cave and trek back to the village from the other end of the cave.
Our next stop, another cave, Bedoh Cave
Bedoh means dry in Bidayuh. The villagers named it that way because a river which has dried up once flowed from the cave.
The climb to the cave is very rocky and steep but it's not very far up.
And in about half an hour we reached the cave. The entrance is certainly impressive  but it's too bad that we didn't manage to take a proper picture of it. We will try harder next time.

Bedoh use to be frequented by locals for its bird nest. Though the opening is small, the cave system is huge in the inside and very long. It's believed that the exit of the cave will end up in the neighbouring village, Kampung Braag.
We lacked of equipment to navigate further as go further require a 90 degree descent. The locals usually just use bamboo as their ladder to go in. Unfortunately, we didn't have many good pictures as we are unprepared for the absolute dark conditions.
Another Stop, Mini Waterfall
Next, we went to the waterfall. It's a relatively small one, but nevertheless a great place to relax and have lunch.
Next Stop, Blue Spring
After a relaxing rest at the waterfall, off we go to our next stop; the mysterious blue spring. We passed by a pepper farm on our way to the spring.
The spring actually looks pretty scary and intoxicated. But there're fishing rods stuck to the sides, meaning there're clean and not poisonous. The waters flows underground and nourished the rivers that runs through the village and they never dry up, even during severe drought.
After a long day, we're on our way back. On the way we passed by one of our hosts, Apeng's farmhouse.
After guiding the youths through our crash course training, we have managed to design a tour package for visitors with the youths. Do support their efforts by clicking here. Our friends from Kampung Begu will be thrilled to welcome you to visit their backyard.

Published Date: Jan 10, 2016