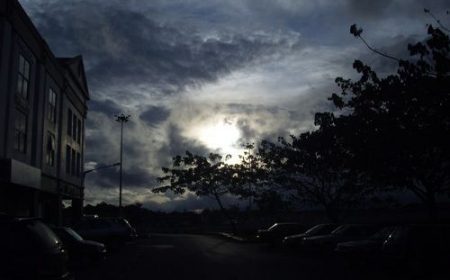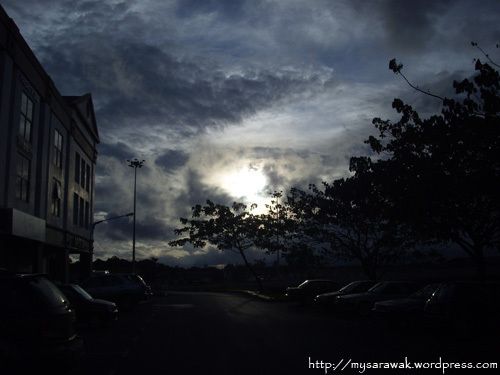 Kuching city is one of the wettest populated area in Malaysia so expect some rain, or even flood if you are travelling at this time. However,the good news is that you can get cheaper prices if you travel to Borneo at this time! Just remember to take waterproof footwear and raincoat with you.
Outdoor activities during this season won't be as fun as you have expected. Some may be able to tolerate getting soaked in the rain but some of may not like the idea of it. So what can you do? In this article, we will be sharing tips on what you can do despite the rainy season in Kuching.
1. Explore Places across Kuching Waterfront by Small Boat
Everyone who visit Kuching would have enjoy walking along Kuching Waterfront as it is hard to miss. It has always been a leisure spot for both locals and tourists. That area gets more vibrant and lively at night with food stalls, handicraft and souvenirs shops opening aside from a number of street performances popping up along the waterfront. However, you might miss visiting the places across the river. To avoid that you can take the small wooden boats, also called penambang​ (water taxi) and pay MYR 1 for one way trip across the river to explore some places there. If possible, pay using small changes or just pay the exact amount as you may not get any changes from the boatmen. If you are supportive towards these locals, feel free to tip them.
There are a few different jetties along Kuching Waterfront. If you take penambang to Encik Omar Jetty, you will be able to visit Brooke Gallery at Fort Margherita with an entrance fee of MYR 20 per person (foreigners). Locals will be charged MYR 5 each. This gallery would tell you more about the  the history of Sarawak under White Rajahs, the Brooke's family.
​
You can also make a visit to layered cake factory. The Layered cakes of Sarawak have unique patterns and tasty flavor. Some really good ones are also very moist. You can sample all different kind of layered cakes before deciding which one to buy. Mira Cake House and Dayang Salhah Kek Lapis are among the best layered cake factory that you can try.
If you take penambang to Pengkalan Sapi, you will be able to get a closer look of the majestic Sarawak State Legislative Assembly Building (Dewan Undangan Negeri Sarawak) – though not exactly to be inside the building. You will also be able to visit DBKU Orchid Garden after about 5 minutes of walking. This garden has two major areas: the nursery and the display area. There are total collection of 75,000 plants comprising of 82 genera. Some of the famous Borneo orchids found in the garden are the Normah Orchid (Phalaenopsis Bellina), the Lady's Slipper (Paphiopedilum Sanderianum), the Black Orchid (Coelogyne Pandurata), Bulbophyllum Beccarii – the flower with stinking smell and the Vandal Dearei – a fragrant flowered orchid. Please remember that these flowers bloom according to their own seasons so you can be considered very lucky if you see a lot of blooming orchids.
If you are unsure about your destination, ask the boatmen before boarding those water taxi. They may not be fluent in English  so try to use simple words.
2. Enjoy the Food
Be it local favorite food, seafood or tribal food, Kuching has a lot to offer and the best news is that these food can be very cheap. You just need to be adventurous in these culinary exploration. Most of Kuching food tastes savory but some can be very sweet and spicy. Here's a list of a few local favorite food that you must try in Kuching: Kolo mee,  Sarawak Laksa, Pork Satay, White Lady dessert, Belacan Bee Hoon, Kueh Chap, Tomato Kueh Teow, Kompia, Cococane drink. The list can be very long but it depends on how adventurous you want to be and, of course, how much you can eat!
Are you a fan of seafood? You can get a feast here in Kuching for a cheaper prices and fresher ingredients!
Visit Top Spot Food Court, which is located at 6th floor of UTC building. Every stall has an abundant display of fresh vegetables and seafood; some on ice and some still alive and swimming in tanks. You can select what you want, choose how you'd like it prepared and with what sauce and it's cooked! Some must-have menu are midin belacan (jungle fern with shrimp paste) or midin with oyster sauce, oyster pancake, river prawn cooked with butter and garlic, razor clams with chilli and salted soft shell crab.
Tribal food is something that you can try as well in Kuching. Be introduced to rice wrapped in leaf, chicken cooked in bamboo, stir fried shredded tapioca leaves, umai (raw fish salad) and even the modern twist of tuak ice-cream. Recommended tribal food place would be The Dyak (but it is not within walking distance from Kuching city), Lepau Restaurant (still consider far from the city but for those who love to walk, this may not be a problem for you), Tribal Stove (located right in front of Hilton Kuching).
Discovering the food in Kuching could take you days so get ready and be adventurous! Book with Backyard Tour if you are interested to discover the culinary experience in Kuching.
3. Visit Wet Market or Weekend Market
Make a visit to a wet market to buy local fruits or get to know some of the local vegetables/produce. It would be better if you could spend few hours of your weekend by visiting a weekend market. It is very likely that you will discover some interesting fruits that may be found only in Borneo there. Read this article to identify a few exotic fruits that you might see at these markets. You might also get to buy some local snacks and delicacies at these markets.
Among the biggest weekend market that we have in Kuching is Medan Niaga Satok, which replaced the old but well-known Satok Weekend Market. You can choose either go there by walking for 30 minutes, get a taxi from Kuching Waterfront and reach by 5 minutes, a 10 minutes or so bus ride from bus station near Kuching Waterfront, or simply use Uber.
* In case you are wondering which bus to use:-
Buses K5, K7 & K71 (City Public Link Bus) – in front of the oldest mosque in Kuching
Buses no. 5, 7, 9, 11, 12 (Matang Transport Co.) – Jalan P.Ramlee
Backyard Tour also offer customized tours to these farmer's market. Feel free to contact here.
4. Visit Museums
Visiting museums could be an interesting experience too. You can learn a lot within few hours visit to museums in Kuching as they are close to each other. The Sarawak Museum, also known as Ethnology Museum is one of the most recommended museums that you should visit. Information is brief but sufficient for you to know a little bit more about the whole of Sarawak. There are also Natural History Museum which displays special collections of animals in Borneo, Chinese History Museum which portrays the rich and fascinating history of Sarawak's diverse Chinese groups, Sarawak Art Museum which displays mostly collection of paintings, Islamic Museum which exhibits the rich historical heritage and special culture of Sarawak Muslim community and also Textile Museum which showcases Sarawak's beautiful and fascinating textiles from the various races in Sarawak.
These museums open from 9:00 am-4:00 pm on weekdays and 10:00 am-4:00 pm on weekend. However, they will be closed on the 1st day of Main Public Holiday, T.Y.T Birthday, Labour Day (May 1st) & Malaysia Day (Sept 16th) so check your Malaysian calendar before heading off to these places.
5. Exploring the Old Streets
Don't miss visiting the old streets of Kuching by walking through the corridors of Main Bazaar Road, India Street, Gambier Road, Carpenter Street and even Padungan Street. The Main Bazaar Road is the oldest street in the city, dating back to the 1840s. It has some superb examples of Chinese shop house architecture; many of which have been occupied by the same family for generations. It is also the first street to have brick shop houses in Sarawak when a few rows of wooden ones were torn down and replaced by concrete structures. In 1884, the Main Bazaar was ravaged by a fire which razed all the wooden shop houses on the street and only the brick shops were left standing. The whole area was quickly rebuilt with brick shop houses which still stand today. You can find a lot of local handicrafts, art galleries, and other vintage and antiqued products of Sarawak.
India Street
The India Street is also known as Little India. Just recently in 2016, the street was given new face-lit with a modern design of covered rooftops. It makes walking along the street easy even when it rains in the city. Here you will see a lot of shops selling textile, clothing, jewelry, and household products. Halfway through the street, there is a narrow passageway that leads to Gambier Road. If you follow is passageway you will pass a small India Mosque. The mosque's structure has undergone many changes since it was originally built by Kuching' Indian Muslim communities in the mid 19th century. Most of the shops in Gambier Road sells bulk spices (both whole and ground), dried fruits, pastas and chips, and different kind of beans. Some stores also sell long sticks of Indonesian cinnamon bark and colorful textiles and fabrics.
Carpenter Street
Carpenter Street is also considered to be the Chinatown of Kuching city. The main entrance is opposite the Old Courthouse. There, you will see a very big Chinese-inspired archway. If you walk along the Carpenter Street, you will see a lot of Chinese coffee shops, antique furniture shops, hardware stores, goldsmith shops and some decent backpackers' hostels, bar and also hipster cafes to accommodate travellers. There are also many Chinese temples in the precinct: Shang Ti Temple (Teocheow) & Hong San Si Temple (Hokkien).
Padungan Street
Padungan Street is virtually an extension of the Main Bazaar. It is now also a well-known souvenir hunter and gastronome's haven. It has some of the most excellent coffee shops and restaurants, cafes, pubs and some unusual specialist retailers amidst the line of old Chinese shop houses. Most of them are built in the 1920's and 30's during the rubber boom. You may want to look out for the traditional Chinese pastry shops and their traditional candies.
You can also spot some of the cat statues and other interesting buildings around these streets. Not to miss, the oldest Chinese temple in the city, Tua Pek Kong temple that was built back in 1876 (according to city's official records).
Of course the activities above are suitable to be done during the dry season too. Just be reminded that the weather can be really hot and humid so you might sweat a lot from just walking around these area in the city. It is recommended to bring water along with you and wear a cap/hat to reduce the risk of heatstroke.
Published Date: Jul 20, 2017