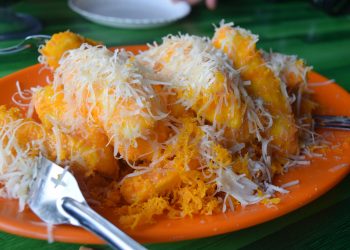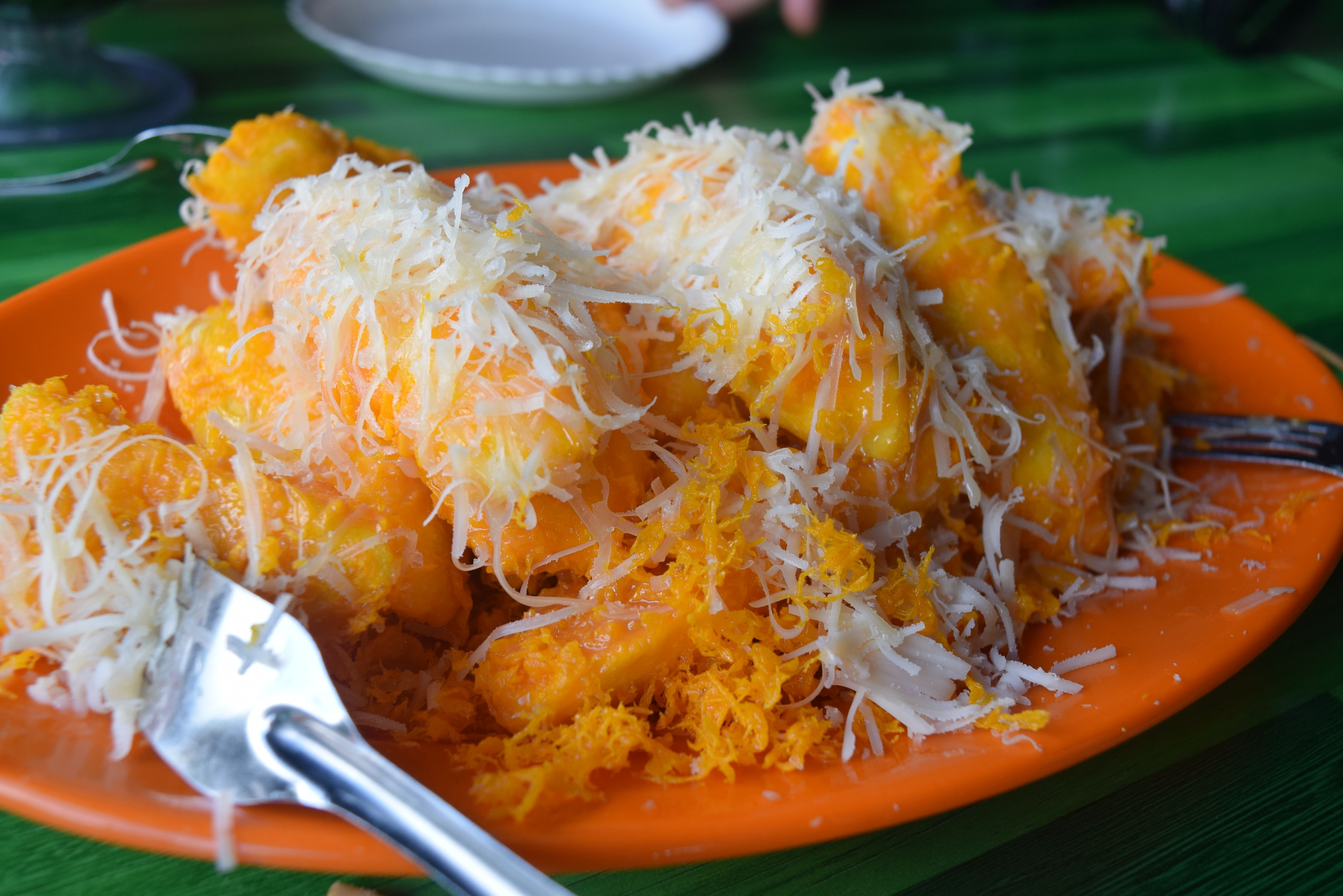 You can find most of the unique Sarawak food right at the heart of Kuching city. Best thing is that they are within walking distance. Consider having your walking and eating experience when you arrive to this little city. There are a lot of other good food options, but these are just some recommendation. Let us know if there are other worth-to-try food on the list.
What Sarawak food should I be looking for?
Before deciding where to go for food hunting in Kuching, let me share what delicacies that are available only in Sarawak. Some might also be available elsewhere in the country, but these food are originated from Sarawak.
Kolo Mee

Kolo Mee is egg noodles with usually barbecued pork slices and pork mince, tossed in a sweet and savory shallot, lard and vinegar dressing. It has become almost like a staple food for everyone in Sarawak that the Muslim group have its own halal version, where they will replace the barbecued pork slices and pork mince with chicken or beef slices. In order to accommodate vegetarians, you can also try its vegetarian version.

Kampua Mee

Kampua Mee is another egg noodles tossed in pork lard or vegetable oil, fried shallots, spring onions and soy sauce and/or chili sauce for additional taste. It definitely looks alike to Kolo Mee, but there are few differences regarding the sauce used.

Laksa Sarawak

Laksa Sarawak is rice vermicelli served with shredded omelette, cooked prawns, chicken strips, bean sprouts and bits of coriander. These are all floating in an aromatic spicy broth that looks like curry, with sambal and lime served on the side.

Tomato Mee

Tomato Mee is crispy noodles or kuey-teow served with tomato sauce and egg as gravy, along with shredded chicken and other seafood ingredients. This is the Sarawak version of spaghetti.

Belacan Bee Hoon

Belacan Bee Hoon is rice vermicelli served with cuttlefish fish in a shrimp paste gravy. This dish also has century egg with it.

Kueh Chap

Kueh Chap is the squarish rice noodle in a dark soy sauce gravy, served with pork pieces, pig offal, tofu products and boiled eggs. Since it is also a type of Chinese cuisine, it is not surprising to see this food elsewhere too. However, the version differs slightly according to places. Mostly due to slightly different preferences in palate.

Dabai Fried Rice

Dabai is the local version of olive fruit. Dabai Fried Rice is a mixture dabai slices in fried rice that makes it looks purplish.

Ayam Pansuh

Chicken cooked in bamboo or Ayam Pansuh  is a common native traditional food. It is marinated chicken pieces in usually garlic, ginger and lemongrass and tapioca leaves stuffed into bamboo before cooking it over an open fire.

Ayam Kacang Ma 

Ayam Kacang ma is a Hakka origin dish. It is chicken pieces cooked in mother wort herb broth. To add more flavor into this dish, rice wine is also added into this hot-flavored, bit bitter broth.

Umai

Umai is a Melanau native delicacy made with thin slivers of fresh fish (usually iced instead of frozen) combined with thinly-sliced onions, chilli, salt, and juice from  lime or sourly fruit.

Midin Belacan

Midin Belacan is atir-fried crispy wild jungle fern with shrimp paste and chilies, usually with anchovies or salted fish too.

Stir-fried Manicai with Egg

Manicai is naturally sweet-taste vegetable. This simple vegetable can make a really good and healthy dish by stir-fry it with egg and anchovies.

Terung Dayak Soup

Terung Dayak is a round yellow color fruit that is naturally sour so the locals love to make assam dish out of it.

Kompia

Kompia is a Foochow origin bun. It can be either soft of crispy. Kompia is baked in a round stone oven and typically stuffed with meat cooked in a special gravy.

Sarawak Layered Cake

Sarawak Layered Cake is multi-colored and multi-flavored with sometimes a very unique pattern of sweet cake.
Where to go for Halal food?
It is not really easy for Muslims to find unique local food in Kuching city, but it doesn't mean there are none! Check out the map below to visit some of the recommended food places that are also halal.
These places has their own opening time. Do check their info on Google Maps to avoid visiting when they are closed.
You can refer to the map below for all other unique local Sarawak food, be it Chinese or tribal food. It also includes small stalls along with other coffee shops and high class restaurants.
You can make use of the map when you are hunting for food. If you dare to be adventurous, your culinary discovery will be another joyful highlight for your trip in Kuching.
Published Date: Aug 20, 2017