Training Course in Kampung Sadir
After our first trip to establish ties with the Village Headman just 2 days ago, now we are back in Kampung Sadir. We want to start training a group of 5 youths who are interested in the program.It was quite a rush as we have other matters in the morning and after a windy road finally we reach our destination.
Reaching the village and greeted with evening tea
We brought chicken and some bread as token of appreciation to the hosts. Bread might be a good option because it's hard to find bakery in the interiors. Mac, one of the nieces of Ketua Kampung took the chicken and cooked it right away. We had our tea and pugang (rice cooked in bamboo) with chicken curry not long after that.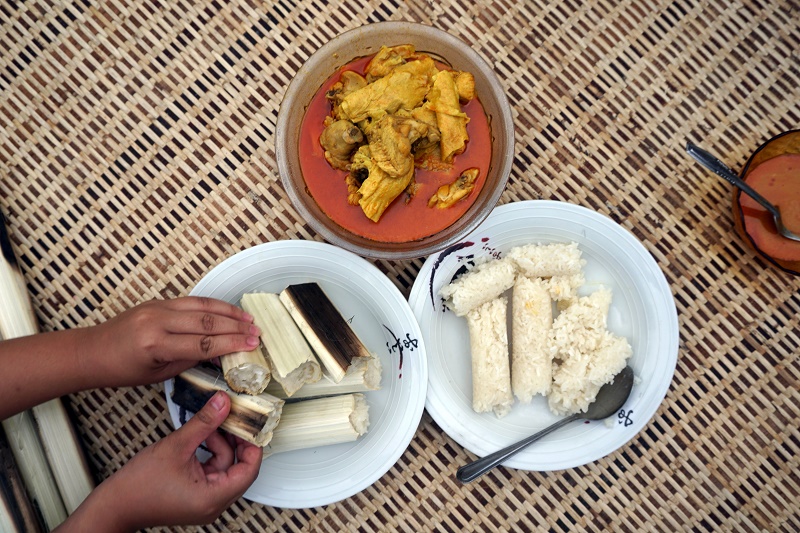 Start Exploring
After tea, the chief asked his nephew to bring us to the two nearest waterfalls. They are very near to the village itself. One is right beside the entrance of the village (Ban Buan Sadir) and the other one a 5 minute walk from the village (Sekudut Falls).
After the 2 waterfalls trip which left us in a sense of deep awe and admiration, we sat on the tanju which spelled for an open-air balcony made of bamboo. On it we had a long chat while waiting for our trainees to prepare dinner.
Training Session
After dinner preparation is done, here goes another round of training. As usual, we conducted the training with the youths in a laid back style; cozy and casual in the presence of the village chief.
Hours past and it's 11 at night and we haven't have dinner yet! Maybe the filling pugang with curry which we had so much that we actually forgot about dinner, hope the rest don't mind. And….. yet again a feast as usual as we had in every other Bidayuh kampungs, truly Malaysian hospitality. And we just can't get enough of it. Although they are all Bidayuhs, different villages serve different food depending on what's available at their surroundings, proximity to the town and climate.
Exploring further waterfalls
The next morning, we started our journey to a the Ban Buan Kukuot Falls. It was supposed to take just an hour. However one of us forget to bring along his camera memory card. Therefore he had to go back, but luckily we haven't walked that far. The trek was quite easy and there's almost no steep part. Along the way we managed to catch hold of some interesting flora.
As we drew nearer to the waterfall, one of our trainees, Dusur started cutting firewood for cooking purposes at the waterfall. We were amazed how he managed to carry two long wood while trekking up and down the hilly paths.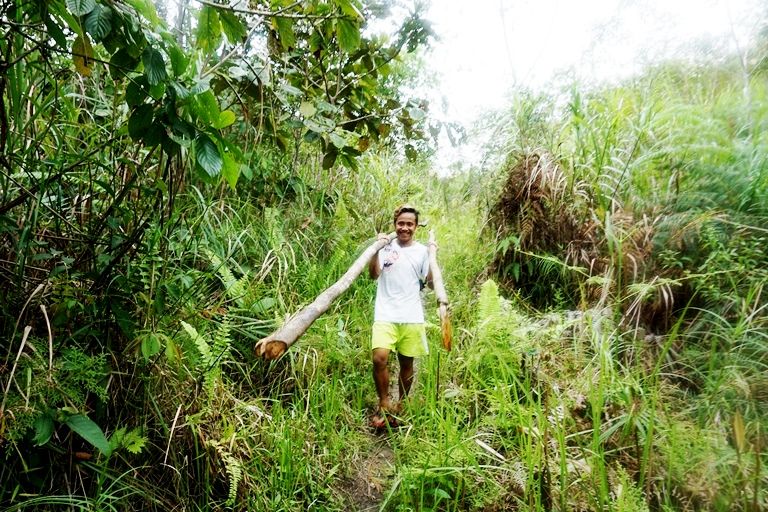 We reached around 11AM and what a sight! Totally worth the effort!
As we took pictures, swam and relax, the trainees prepare lunch for us. Behold, authentic bamboo grilled-fresh-water fishes coming right up!
Lunch by the waterfall was just totally awesome. It's our 2nd time, to have delicious food and cool air after a tiring trek and a huge bonus of a refreshing swim at the scenic waterfall.
At around 1 we start our journey to another waterfall, Mabi Falls. On the way we pass through a huge leafy plant forest. Its leaves is used primarily as plates and rice wrapper by the Bidayuh.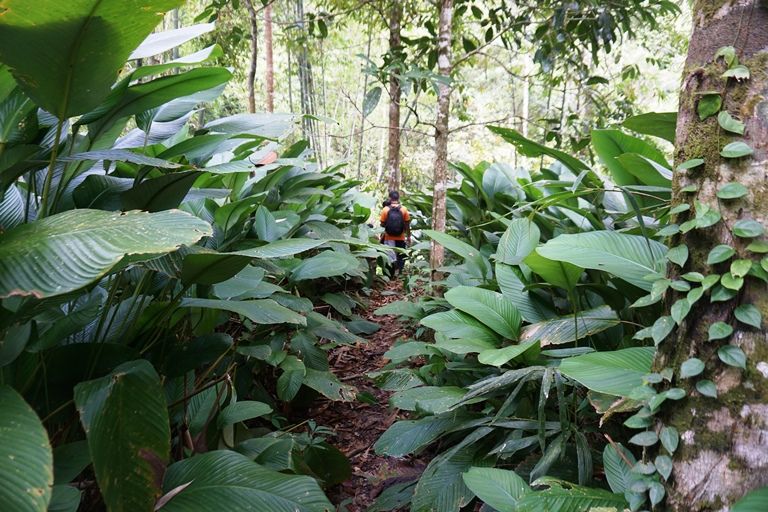 Within half an hour we reach Mabi Falls. It's a 2-tiered waterfall with 2 very nice pools for swimming, one at the upper-tier and the other the lower-tier.
Then the diving start
And the lower pool is really deep, and this happened – one of our guide trainee, Lawrence, dove from the upper pool to the lower pool!!!
And that is definitely higher than 10 metres, higher than the Olympic diving pool. Everyone was stunted… and… tempted… but… thinking twice… many times actually and in the end, 4 others followed, including a primary school kid, David.
Crazy!!!
I guess if they didn't jump, they wouldn't have been able to sleep that night. If you ever come here, please make sure you think twice, it's dangerous nevertheless. These people are Pandalela's cousins I guess, so probably different rules apply to them. And who knows, David may win us a gold medal in the future!
The way back to the village from Mabi took us just shy of 10 minutes, whose proximity certainly a welcomed sight, after all the excitement and exhaustion.
After a short training session and dinner after a tiring yet eventful day, we started our journey back.
Kampung Sadir is definitely an awesome place to visit. Its 7 waterfalls and remoteness which preserves its pristine kampung life is definitely worth experiencing. Wanna go there? Take a look at the Day Trip package that these youth came out with during our training there.
For more details, click here.
Published Date: Jan 6, 2016