Reaching Kampung Kiding
This is where the fun started. The road was not in good condition. Those without rubber shoes (It's a must!) will struggle because it's 2 hours to hike up to Kampung Kiding, from the foothill, which is no kidding at all! The view along the way was nice though; a consolation.
It's the second day of Chinese New Year and we're on our way to Kampung Kiding. It was our first ever trip there. We're going there with a friend of ours, Liserd. The journey there took approximately 2 hours. The road which was fully tarred though not entirely good but the one at the foothill of Kiding was freshly tarred.
Singapore Waterfall
After roughly an hour and half we reached a small waterfall, Singapore Waterfall. It is named Singapore Waterfall because a group Singaporean students collaborated with the villagers to clean up the waterfall.
After almost 2 hours, we reached the village
To get to the house which we are staying, we need to go through two bamboo bridges; which were quite sturdy and reliable.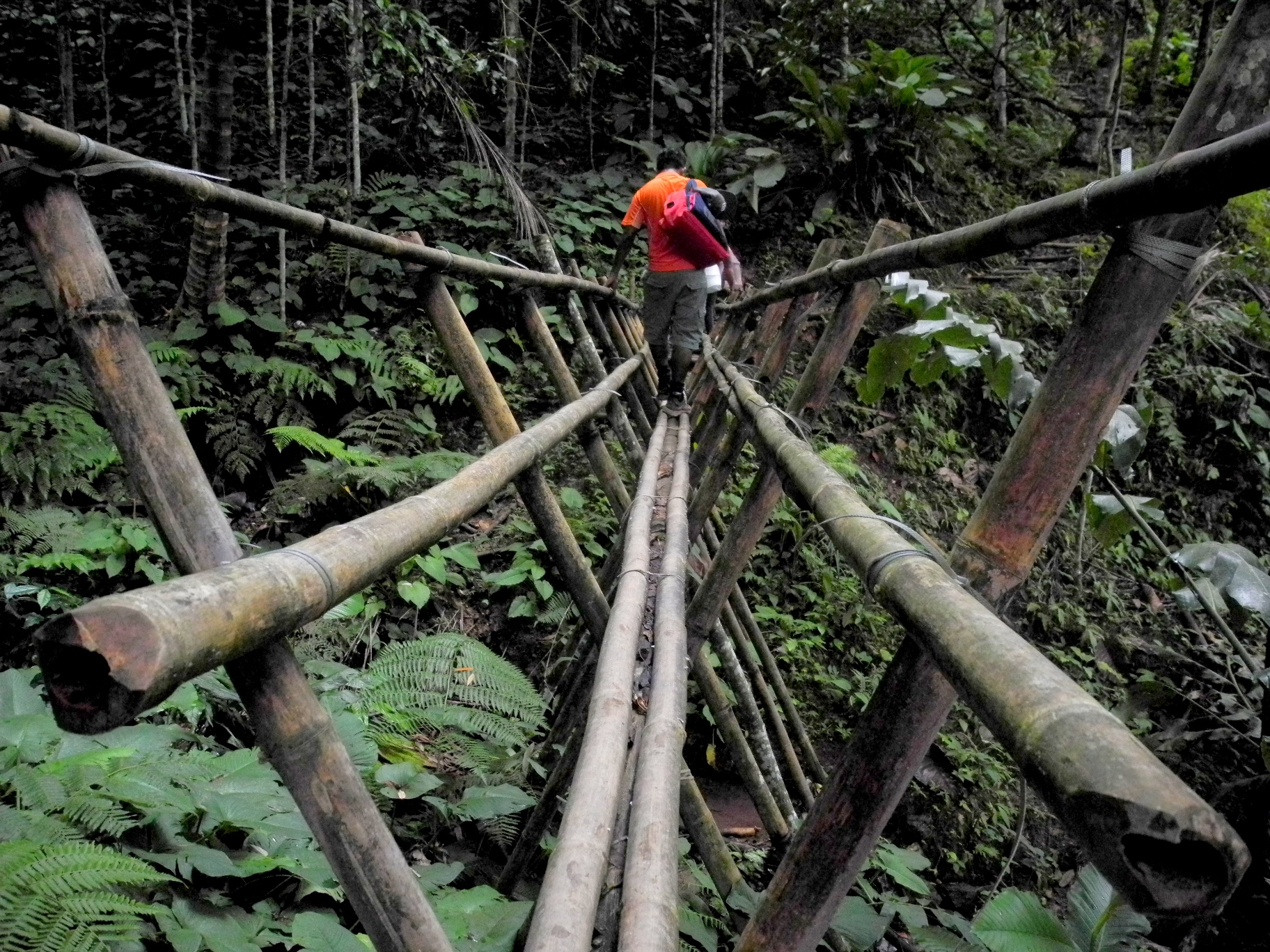 We reached the house after two hours of hard labor hiking up. And it was amazing to see how they build houses on the mountain back in olden days. This view was simply breathtaking, you can look to the mountains and stand in awe at the face of God's beautiful creation.
Something special about the villagers
On top of the beauty of nature, the village is also rich in its traditions. Due to its remoteness and lack of electricity supply, people here still relied on locally sourced materials to make whatever they need in their daily lives. By doing this, the villagers would be able to preserve the traditional way of living for the next generation as well.
Bat as dinner
And we had a special menu for the night – the bat meat! Wild and locally sourced.
The bat's hair was removed before cooking. How did it taste? Well, it had a unique kind of smell and the meat was a bit bitter. Nevertheless you should try it. Who knows, you might turn to like it.
Meeting the Village Headman
At night, we went to the village headman house to present our project to him and the youths he has managed to gather for us. The meeting was very fruitful, with a seemingly mundane discussion turned lively as the youths started to pour out their ideas. We managed to get 5 youths to join the project and we are scheduled to be back in roughly a week and a half from then.
Wrap-up
Our first trip to Kiding was indeed a memorable one, we were pushed to the limits by hiking 2 hours with steep pathways and we made it! When we were on top there, personally we felt like the view from on top of Kiding was something like the "Cameron Highlands" of east Malaysia and overall, were very impressed by the hospitality shown by the people there. We will come again in less than 2 weeks time  to conduct our training with the youths and see what Backyard Tour has in store for them. Till we meet again =)
Published Date: Jan 4, 2016